The Kirkus's Prepub Review of The Second Day of the Renaissance


In his sixth outing, a retired detective tries to determine the identity of a clever killer who's seeking revenge against him. In Florence, retired policeman Piero Trotti assists Wilma Barclay, a young American who seems lost, and takes her under his wing. In Siena, he meets Gen. Spadano, a former colleague himself contemplating retirement, who coolly informs Trotti that a professional killer is after him. The philosophical Trotti contemplates his own mortality for a remarkably long time before deciding to protect himself. Long-winded Spadano turns the revelation of the would-be killer into a shaggy dog story, complete with coffee breaks, Mafia references, and a brace of likely suspects, including postwar revolutionaries, corrupt politicians, and crime lords. Chief among these is Lia Guerro, the lover of crusading journalist Signor Gracchi, whose death she likely blames on Trotti (wrongly, in his opinion). With Wilma and his mental catalog of past enemies in tow, Trotti continues his rail journey. He tracks down and talks to a handful of former antagonists in his efforts to get to the truth and avert personal tragedy. Readers who suspect that Wilma's continuing connection with Trotti is not accidental can congratulate themselves on their astuteness. There's some confusion in the piecemeal mosaic of complex episodes and speculations from Trotti's past, but it's hard to resist Williams (Big Italy, 2015, etc.) as he unfolds his tale in tiny, deliciously wry narrative nuggets—100 titled chapters of puckish literary pointillism.
---
Black August – Reviews – Audio Files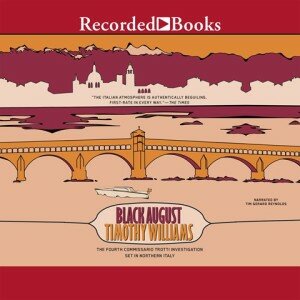 Narrator Tim Gerard Reynolds deftly captures the taciturn, prickly Commissario Piero Trotti, who likes nothing better than fighting crime in Pavia, Lombardy, and enjoying an endless supply of boiled sweets. Williams won a Crime Writers' Association award for this fourth volume in the Trotti series, which excels in depicting contemporary Italy. In addition to Trotti, Reynolds spiritedly portrays a huge cast of suspects and police with countless melodious Italian voices and accents. Trotti's assistant, Pisanelli–he of many fiancées–is one of the most memorable. Particularly engaging is hearing a newspaper account of the complex case, which mistakenly identifies the corpse. Listeners will enjoy learning a bit of Italian history as Trotti finally nabs the killer. S.G.B. © AudioFile 2015, Portland, Maine [Published: MARCH 2015]
Visit: http://www.audiofilemagazine.com/reviews/read/96921/
---
Review by Dr R (Norwich, UK), Amazon
Big Italy : Commissario Trotti #5 (Inspector Trotti)
Having just completed this novel, which I came across by chance, I reached for information about the author. Timothy Williams, b. 1946, now teaches in Guadeloupe [the scene of his French books featuring Judge Anne Marie Laveaud]. He has also written five books featuring the morose Commissario Piero Trotti between 1982–96, this being the last.
I am an avid reader of the novels of the late Michael Dibdin and Magdalen Nabb [both born just a year after Williams] and Donna Leon, as well as the many books by authors of translated books involving Italian detectives. As I read on enthralled, my wonder grew that I had never come across Williams or this character before.
The action takes place between the end of November – early December, 1993. The unspecified location that is such a feature of the book is perhaps Pavia, in South-Western Lombardy, near Milan. The misanthropic Trotti is dreaming of the short time that he has left at work before being able to retire with his cousin, Sandro, to 'an old house – the foundations are more than three hundred years' old. On the edge of town, in a grove of chestnut trees. It's where our grandparents used to live. And it's where I spent the happiest years of my life – despite the war.'
However, events transpire to interrupt his dreams – the murder of a well-connected doctor a year or so earlier and the killing of an ex-colleague, Fabrizzio Bassi, who operates as a Jim Rockford-style private eye, who was asked by the doctor's family to investigate the case after the police had had no success. Trotti's interest in the case is frustrated by his being asked by the Questore, who considers the detective's abilities to unsuited to modern murder investigation, to take over responsibility for the Regional Child Abuse Section.
Williams' presentation of the truculent and cynical Trotti is masterful, the detective is ideally-suited to the new position but digs his heels in when under pressure to move. The characters of his fellow officers, Magagna, Merenda, Maiochi and Pisanelli take time to develop, but Trotti's difficult relationship with the latter after his proposal to the Commissario's goddaughter had been turned down is wonderfully realised. The reader learns much about Trotti's life and feelings through his inner reflections that run through the book. Much of this information will be familiar to those who have read earlier books.
The complexity of Italian politics, its influence on policing and justice, and its inextricable connection to corruption is a compelling background the story. The reader shares Trotti's frustration and anger at the apparent stranglehold that politics and corruption exert over all aspects of Italian life. In contrast to many other Italian detectives, the Commissario's homelife is almost monastic; he is separated from his wife, who is working in America, and looks forward spending time with his grandchild whose mother, Pioppi, has survived teenage anorexia, something that Trotti continues to blame himself.
He also discounts and distrusts the friendship of others, in case they require or expect something in return. There is a humour running through this book, as in the way in which the curmudgeonly Trotti rebuffs the approaches of colleagues seeking to mend fences.
Despite the Commissario's attempts to hide his inner feelings behind a mask of cynicism and obstruction, he is genuinely affected by the abuse of a small girl from a village and when one of his colleagues ends up in intensive care after his car is forced off the road. Williams has the confidence to leave many loose ends open in this final book in the series and the absence of pages of description about mouthwatering regional cuisine is, at least for this reader, refreshing.
The book's darkest part considers social patterns of child abuse and incest, and describes the sensitivity with which these are explored – although it is clear that contemporary Italian society and the authorities would much prefer that they were left hidden.
William's style is rather disjointed, most obviously in the dialogue and this, together with gradual disclosure of the main characters' backstories, made it somewhat difficult to make the Commissario's acquaintance in this final book. Repeated references to terms such as 'Mani Pulite' or 'Tangentopoli' would have been helped by the inclusion of an initial explanatory footnotes. However, I unreservedly recommend this book, the series and the author.
http://www.amazon.co.uk/gp/cdp/member-reviews/A1W7ZLB7FB0S4O/ref=pdp_new_read_full_review_link?ie=UTF8&page=1&sort_by=MostRecentReview#RO5HRXZOVKCL
---
Review posted by Glenn Harper 
International Noir Fiction
Timothy Williams, New and Reissued
Most dialogue in crime fiction moves forward smoothly, the speakers responding to one another and perhaps gradually revealing the truth of the events in the story. In the novels of Timothy Williams, though, the dialogue follows the patterns of life: the speakers are not really listening to each other and definitely not responding coherently to one another. The reader discovers, in the disconnected conversations, the truths that the speakers are hiding from each other, and even from themselves. His recent novel, The Honest Folk of Guadeloupe, follows this indirect method to its logical conclusion: has a crime taken place, and if so what crime? This is not a whodunit, it's a glimpse into the complex life of the citizens of a post-colonial, conflicted culture.
Soho Crime, which published The Honest Folk last year, has recently been reissuing Williams previous series, featuring Italian Commissario Piero Trotti. Trotti, a spiky character with fewer social skills than Judge Anne Marie Laveaud of The Honest Folk and the previous Antother Sun, suits Williams's style perfectly: He talks over people, goes his own way, and has difficulty with everyone in his professional and personal life. In his case, Trotti's investigations lead through some of the most difficult years of Italian history, from the "years of lead" onward into the 1990s, each of the five reissued novels tying local crimes to larger social patterns of violence, corruption, and chaos.
The five Trotti novels appeared originally along with some of the major crime novels set in Italy by English-speaking writers, including Magdalen Nabb, Donna Leon, and Michael Dibdin. Williams is less well known that some of the others, but his work is of the same rank and more specifically links the crime stories to specific facts and events (all of the writers deal with corruption, for example, but only Williams points to specific and specifically Italian corruption. His indirect style is particularly suited to the frequently indirect patterns of life and crime in Italy, without falling back on the more picturesque or charming qualities of life there for solace: his novels are darker, more grimly funny, and in some senses truer. Big Italy involves Trotti in a web of child abuse, conspiracy, and murder, just at the point when he's trying to retire.
The Laveaud books (originally written in French rather than English) show the range of Williams's writing: it's not the same kind of corruption or crime in Guadeloup, and the stakes are different. Laveaud, despite her family troubles, is a more open and social person, caught in the grinding gears of racial and political conficts, corruption of a more distinctively Caribbean sort, and a position in the legal system somewhat more viable professional position than Trotti, whose career is at a seeming dead end. The Guadeloupe books, because of Laveaud's personality and the tropical setting, are quite different fromt he Trotti books, while maintaining the author's quite distinctive approach to crime writing. Both series are highly recommended!
http://internationalnoir.blogspot.com/
---
Review by Betty Webb
Mystery Scene Mag
"In this intriguing novel set in 1990 on a collection of French islands in the Caribbean, the title phrase is used with considerable irony. Times are hard for the islanders (Indian, black, Creole, English, French), because to climb their way out of tin-roof-shack poverty they have to be either liars, thieves, or involved in the tourist trade.
When the body of a beautiful French tourist is found near a popular beach, everyone—especially government officials—goes into full cover-up mode. One of the only people interested in an honest solution to the crime is judge Anne Marie Laveaud. Under the French system of justice, the judge serves as an investigator, much like a US police detective, only with considerably more politics involved. Orders from on high cut short Laveaud's previous investigation of politician Rudolphe Dugan's presumed suicide, and now, facing obstacles from all quarters on both investigations, the judge must decide what is more important to her—her daughter, her career, or her pursuit of justice.
The Honest Folk of Guadeloupe is a fascinating book, partially because most of its characters are the opposite of honest. Even Laveaud, who was born in Algiers and raised in Paris, has secrets she must sometimes make compromises in order to keep.
The book serves as a nice respite from the US legal thriller genre by giving us a peek into the French legal system in the Caribbean. American readers unfamiliar with the Napoleonic Code will be intrigued by the serpentine pathways Laveaud must maneuver in order to achieve an honest verdict, a system that was set up by Napoleon himself to bring justice to the poor as well as the wealthy. That was the plan, anyway.
But, as rendered here, the Guadeloupe of 1990 is no egalitarian paradise. Although the islands that make up the French colonies may be lush and blessed with pristine beaches, they are a racial, cultural, and political quagmire only the brave and nimble-footed can successfully navigate. Fortunately for the hurting souls seeking her help, Anne Marie Laveaud is up to the task.
http://www.mysteryscenemag.com/26-reviews/books/4811-the-honest-folk-of-guadeloupe?highlight=WyJndWFkZWxvdXBlIl0=
Best Selling Crime Thrillers – Best Selling Book Reviews
Recommended

Anne Marie Laveaud is the investigating juge d'instruction in the French Caribbean department of Guadeloupe, looking into the case of the 'suicide' of Rodolphe Dugain. Known as "Mr Environment", Dugain supposedly threw himself out of a fourteenth storey window following a minor fraud investigation. In addition to this, Anne Marie is called away to a suspicious death of a white tourist, Evelyne Vaton, on the beach at Pointe des Chateaux.
As Anne Marie leads these investigations, we are privy to the petty jealousies which run between the judiciary, the gendarmerie and the Service Regional de Police Judiciaire (SRPJ). With the plot intensifying, she is subjected to intense political pressure from the judiciary and local politicians, who all want the tourist death 'done and dusted' as soon as possible, with or without the correct perpetrator! In addition, Anne Marie is finding that she is not receiving the co-operation she needs regarding the Dugain case, and indeed, has been warned off continuing with it.
So commences this book by Timothy Williams, which is a great read. He marvellously describes the island of Guadeloupe, with its fierce tropical climate, as well as the amalgam of skin colours and racial backgrounds that these differing cultures bring to this island. Also evident is the fact that the races have intermingled and everyone knows everyone else's business. As Timothy Williams writes, "With the population at one third of a million and only two decent streets in which to shop, we must ultimately end up bumping into each other."
Colourful and entertaining, this book is highly descriptive of the island of Guadeloupe, and is also a good thriller, with the plot being carefully and skilfully laid out right up to the final chapter. -Sméagol
http://bestsellingcrimethrillers.com/best-selling-books
---
Kingdom Books, Mysteries — Classic to Cutting Edge: Ready for the Caribbean? Try THE HONEST FOLK OF GUADELOUPE, Timothy Williams
Maps change, as politics reshape them. And our interest shifts the familiar parts. So if it takes you a moment to locate Guadeloupe, in the "French West Indies," roll with it. And at the same time, locate neighboring Martinique. It will help with geography and perspective as crimes, some deadly, rapidly accelerate in the new mystery from Timothy Williams, THE HONEST FOLK OF GUADELOUPE (Soho Crime).
William is a CWA (Crime Writers Association, UK) award winner, and this is the second in his new series featuring "judge" Anne Marie Laveaud, a French import in the island's justice system. If you're not yet a steady reader of French crime fiction, note that the term "judge" here is not the same as its American meaning: It's "juge d'instruction" in the full term, meaning the person who directs a criminal investigation and who also makes the call on who to charge with the crime.
Anne Marie's overwhelmed this time: The high-profile death of a local environmental activist, Rodolphe Dugain, is being blamed on the police for harassing the politically prominent man. A first quick survey of the situation convinces Anne Marie that a "suicide" label could be premature, and that there are a lot of women in the area with complicated relationships with Dugain.
Just as she could be untangling the threads, though, her boss pushes another death to higher priority: the probable rape and murder of a young tourist, whose bikini'd body is discovered near a nude beach. (This will be almost the only chance to get to see "tourist" side of the island — most of the narrative slips behind the hospitality front, into the frictions of island life.) Meanwhile Anne Marie's own life is cascading into disaster, with her son acting out at serious levels in school, her lover (one of the dubious perks of being a single mom) putting pressure on her for commitment (and he's the one who's still married!), and her clerk (griffier in the local language) setting her up repeatedly for discomfort and argument.
Williams is a gifted storyteller, who deftly braids Laveaud's conflicts around being an attractive, unmarried, powerful woman into the press of dual unfolding investigations. (I found some of the novel's transitions abrupt, making me suspect the original manuscript of this book was shortened with some cuts that bled a bit … it almost feels like the bumps of a translation at times, but that can't be the case; Williams is London born and teaches in the French West Indies. But the plot is intense enough to drive the narrative past these moments.)
And the layers under the murder investigations include more than the personal for "madame le juge": The conflicts around her resonate with class conflict, captured in the local expression that sets urban Martinique against the island residents: "the gentlemen of Martinique, the honest folk of Guadeloupe."
Nor is Laveaud herself blameless in the stresses threatening to derail her investigations. Whether and how she can untangle her career seems likely to influence whether she can find a politically workable solution that will also bring justice – which is, after all, the root word for judge. Right?
You don't need to read the preceding book in the series (Another Sun), but … once you walk with Anne Marie Laveaud and her questions for "the honest folk of Guadeloupe," chances are that you'll want to make room on your shelf for more from TimothyWilliams, who also has a series set in Italy.
http://kingdombks.blogspot.it/2015/01/ready-for-caribbean-try-honest-folk-of.html